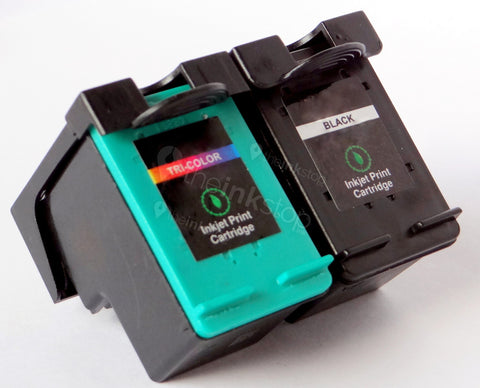 1 FULL SET Remanufactured HP 338 BLACK & HP 343 TRI-COLOUR HIGH CAPACITY Ink Cartridges
Quality Ink Cartridge
Low Online Price Guaranteed 
Great Value for Money
Product details:
• Product Type: Remanufactured cartridge
• Ink Colour(s): Black+Tri-colour
• Ink Volume:18ml+18ml
• Pack Quantity: 2
• In stock: Yes
DESCRIPTION
Remanufactured HP 338 BLACK and HP 343 TRI-COLOUR ink cartridge is a full set for your printer. It's probably the best option for you if you need a high quality printing at reasonable price. The cartridges contain the maxiumum amount of ink. Buy this value set for a peace of mind and start printing crisp texts, school presentations, colourful images or quality documents. It is suitable for home and office use.
COMPATIBILITY
HP DeskJet 2355
HP DeskJet 460c
HP DeskJet 460cb
HP DeskJet 460wbt
HP DeskJet 5440 series
HP DeskJet 5470
HP DeskJet 5740
HP DeskJet 5743
HP DeskJet 5745
HP DeskJet 5748
HP DeskJet 5793
HP DeskJet 5943
HP Deskjet 6520
HP Deskjet 6540
HP Deskjet 6543
HP Deskjet 6545
HP Deskjet 6548
HP DeskJet 6620
HP DeskJet 6623
HP Deskjet 6628
HP Deskjet 6800
HP Deskjet 6830
HP Deskjet 6830v
HP Deskjet 6840
HP Deskjet 6843
HP Deskjet 6848
HP DeskJet 9800
HP OfficeJet 100 Mobile
HP OfficeJet 150 Mobile
HP OfficeJet 150 Mobile
HP OfficeJet 6200
HP OfficeJet 6203
HP OfficeJet 6205
HP OfficeJet 6208
HP OfficeJet 6210
HP OfficeJet 6213
HP OfficeJet 6215
HP Officejet 7200
HP Officejet 7205
HP Officejet 7208
HP OfficeJet 7210
HP Officejet 7213
HP Officejet 7215
HP Officejet 7218
HP Officejet 7300
HP OfficeJet 7310
HP Officejet 7313
HP Officejet 7400
HP Officejet 7408
HP OfficeJet 7410
HP Officejet 7413
HP OfficeJet H470
HP OfficeJet K7100
HP OfficeJet K7103
HP OfficeJet K7108
HP PhotoSmart 2600 series
HP PhotoSmart 2605
HP PhotoSmart 2608
HP PhotoSmart 2613
HP PhotoSmart 2615
HP PhotoSmart 2700
HP PhotoSmart 2713
HP PhotoSmart 7800
HP PhotoSmart 7838
HP PhotoSmart 7850
HP PhotoSmart 8000
HP PhotoSmart 8030
HP PhotoSmart 8039
HP PhotoSmart 8049
HP PhotoSmart 8050
HP PhotoSmart 8053
HP PhotoSmart 8100
HP PhotoSmart 8150
HP PhotoSmart 8153
HP PhotoSmart 8400
HP PhotoSmart 8450
HP PhotoSmart 8453
HP PhotoSmart C3100
HP PhotoSmart C3125
HP PhotoSmart C3135
HP PhotoSmart C3140
HP PhotoSmart C3150
HP PhotoSmart C3170
HP PhotoSmart C3173
HP PhotoSmart C3175
HP PhotoSmart C3180
HP PhotoSmart C3183
HP PhotoSmart C3185
HP PhotoSmart C3188
HP PhotoSmart C3190
HP PhotoSmart C3193
HP PhotoSmart C3194
HP Photosmart Pro B8330
HP Photosmart Pro B8338
HP Photosmart Pro B8350
HP Photosmart Pro B8353
HP PSC 1500
HP PSC 1503
HP PSC 1504
HP PSC 1507
HP PSC 1508
HP PSC 1510
HP PSC 1510S
HP PSC 1513
HP PSC 1600
HP PSC 1603
HP PSC 1610
HP PSC 1613
HP PSC 1615
HP PSC 1616
HP PSC 1618
HP PSC 2350
HP PSC 2355
HP PSC 2357
HP PSC 2358
HP PSC 2610
HP PSC 2613
HP PSC 2619
HP PSC 2700 Series
HP PSC 2710
---
We Also Recommend
---