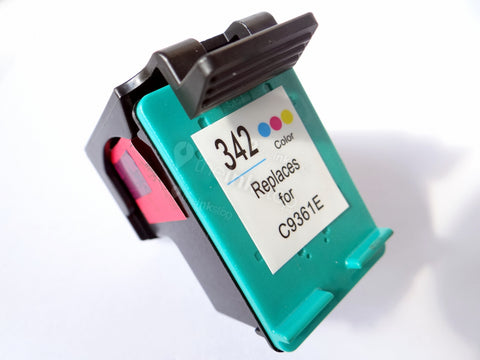 Remanufactured HP 342 TRI-COLOUR HIGH CAPACITY ink cartridge
Quality Ink Cartridge
Low Online Price Guaranteed 
Great Value for Money
Product details:
• Product Type: Remanufactured cartridge
• Ink Colour(s): Tri-colour
• Ink Volume: 20ml
• Pack Quantity: 1 
• In stock: Yes
DESCRIPTION
Remanufactured HP 342 TRI-COLOUR HIGH CAPACITY ink cartridge is a high quality replacement for your printer. It's probably the best option for you if you need a high quality printing at reasonable price. The cartridge is high capacity, contains the maximum amount of ink and  gives you comfort to print crisp text, documents or images. It's suitable for home and office use.
COMPATIBILITY
HP DeskJet 5420v
HP DeskJet 5432
HP DeskJet 5440
series HP DeskJet 5440v
HP DeskJet 5440xi
HP DeskJet 5442
HP DeskJet 5443
HP DeskJet D4100
HP Officejet 6300
HP Officejet 6304
HP Officejet 6305
HP Officejet 6307
HP Officejet 6310
HP Officejet 6313
HP Officejet 6315
HP OfficeJet 6318
HP PhotoSmart 2575
HP PhotoSmart 7800
HP PhotoSmart 7838
HP PhotoSmart 7850
HP PhotoSmart C3100
HP Photosmart C3110
HP PhotoSmart C3125
HP PhotoSmart C3135
HP PhotoSmart C3140
HP PhotoSmart C3150
HP PhotoSmart C3170
HP PhotoSmart C3173
HP PhotoSmart C3175
HP PhotoSmart C3180
HP PhotoSmart C3183
HP PhotoSmart C3185
HP PhotoSmart C3188
HP PhotoSmart C3190
HP PhotoSmart C3193
HP PhotoSmart C3194
HP PhotoSmart C4100
HP Photosmart C4170
HP Photosmart C4173
HP Photosmart C4175
HP Photosmart C4183
HP Photosmart C4188
HP PhotoSmart C4190
HP Photosmart C4193
HP Photosmart C4194
HP PSC 1500
HP PSC 1503
HP PSC 1504
HP PSC 1507
HP PSC 1508
HP PSC 1510
HP PSC 1510S
HP PSC 1513
HP PSC 1600
HP PSC 1610
---
We Also Recommend
---