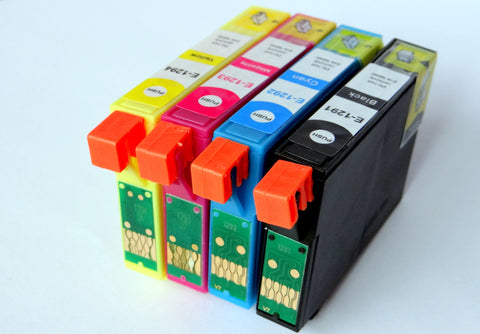 1 FULL SET Compatible EPSON T1295XL (Replaces Epson T1295 Apple Cartridges)
High Quality Ink Cartridge
Low Online Price Guaranteed 
Great Value for Money
Product details:
• Product Type: Compatible cartridge
• Ink Colour(s): Black, Cyan, Magenta, Yellow
• Ink Volume: 1*18ml+ 3*15ml
• Pack Quantity: 4
• In stock: Yes
DESCRIPTION
This Compatible multipack of EPSON T1295 contains all colours: Black, Cyan, Magenta and Yellow. It is a full set of HIGH CAPACITY ink cartridges for your printer. Buy the set for a peace of mind and start printing crisp text, colourful images or quality documents. Our chipped cartridge enables you to see how much ink is left in the cartridge. It's suitable for home and office use.
COMPATIBILITY
Epson Stylus Office BX305F
Epson Stylus Office BX320FW
Epson Stylus Office BX525WD
Epson Stylus Office BX535WD
Epson Stylus Office BX625FWD
Epson Stylus Office BX630FW
Epson Stylus Office BX635FWD
Epson Stylus Office BX925FWD
Epson Stylus Office BX935FWD
Epson Stylus SX230
Epson Stylus SX235
Epson Stylus SX420W
Epson Stylus SX425W
Epson Stylus SX430
Epson Stylus SX430W
Epson Stylus SX435W
Epson Stylus SX438W
Epson Stylus SX440W
Epson Stylus SX445W
Epson Stylus SX525WD
Epson Stylus SX535WD
Epson Stylus SX620FW
Epson WorkForce Pro WF-7015
Epson Workforce WF-3010DW
Epson Workforce WF-3520DWF
Epson Workforce WF-3530DTWF
Epson Workforce WF-3540DTWF
Epson WorkForce WF-7515
Epson WorkForce WF-7525
---
We Also Recommend
---