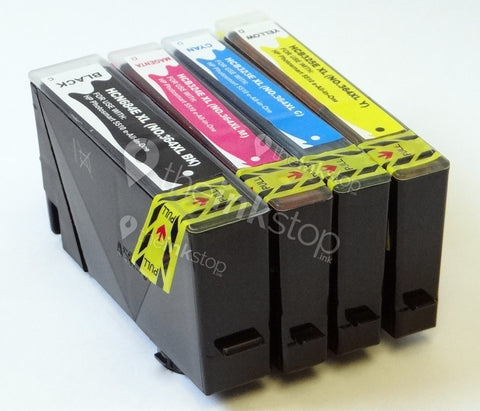 1 FULL SET Compatible HP 364XL BK/C/M/Y HIGH CAPACITY Ink Cartridge (CHIPPED+INK LEVEL)
High Quality Ink Cartridge
Low Online Price Guaranteed 
Great Value for Money
Product details:
• Product Type: Compatible cartridge
• Ink Colour(s): Black, Cyan, Magenta, Yellow
• Ink Volume:1*24+3*15ml
• Pack Quantity: 1
• In stock: Yes
DESCRIPTION
This compatible multipack of HP 364XL BK/C/M/Y contains all colours: Black, Cyan, Magenta and Yellow. It is a full set of high capacity cartridges for your printer. Buy the bundle for a peace of mind and start printing crisp text, colourful images or quality documents. It's suitable for home and office use.
Our chipped cartridges enable you to see how much ink is left in the cartridge.
COMPATIBILITY
HP Deskjet 3070
HP DeskJet 3520 e-All-in-One
HP DeskJet D5445
HP DeskJet D5460
HP Officejet 4610 All-in-one
HP OfficeJet 4620e
HP OfficeJet 4622e
HP PhotoSmart 5510
HP Photosmart 5512 All In One
HP Photosmart 5514 All In One
HP PhotoSmart 5515
HP Photosmart 5520
HP Photosmart 5524
HP PhotoSmart 6510
HP Photosmart 6520
HP PhotoSmart 7510
HP Photosmart 7520
HP Photosmart B010a
HP Photosmart B109 Wireless
HP Photosmart B109A
HP Photosmart B110 Wireless
HP Photosmart B209
HP Photosmart B210
HP Photosmart B8553
HP Photosmart C309A
HP Photosmart C5300 Series
HP PhotoSmart C5324
HP PhotoSmart C5360
HP PhotoSmart C5370
HP PhotoSmart C5373
HP PhotoSmart C5380
HP Photosmart C5383
HP Photosmart C5388
HP Photosmart C5390
HP Photosmart C5393
HP Photosmart C6300 Series
HP PhotoSmart C6324
HP PhotoSmart C6350
HP PhotoSmart C6380
HP PhotoSmart C6383
HP Photosmart CN245B Wireless
HP PhotoSmart D5445
HP PhotoSmart D5460
HP PhotoSmart D5463
HP PhotoSmart D5468
HP PhotoSmart D7560
HP PhotoSmart estation
HP Photosmart eStation C510
HP Photosmart eStation C510e
HP PhotoSmart Plus All-In-One
HP PhotoSmart Plus B209
HP Photosmart Premium All-In-One
HP Photosmart Premium C309
HP PhotoSmart Premium C310
HP Photosmart Premium C410B
HP Photosmart Premium CC335B
HP Photosmart Premium Fax
HP PhotoSmart Pro B8550
HP PhotoSmart Q8447 wifi
HP PhotoSmart wireless B109N
---
We Also Recommend
---