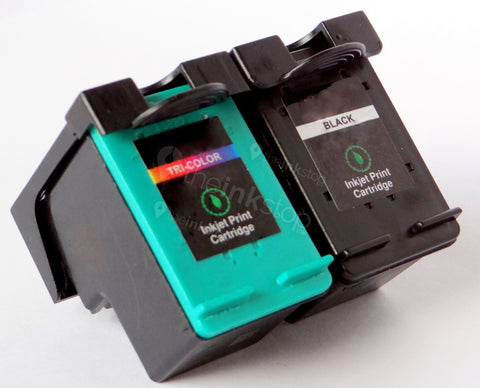 1 FULL SET Remanufactured HP 337 BLACK & HP 344 TRI-COLOUR HIGH CAPACITY Ink Cartridges
Quality Ink Cartridge
Low Online Price Guaranteed 
Great Value for Money
Product details:
• Product Type: Remanufactured cartridge
• Ink Colour(s): Black+Tri-colour
• Ink Volume:18ml+20ml
• Pack Quantity: 2
• In stock: Yes
DESCRIPTION
Remanufactured HP 337 BLACK and HP 344 TRI-COLOUR ink cartridge is a full set for your printer. It's probably the best option for you if you need a high quality printing at reasonable price. The cartridges contain the maximum amount of ink. Buy this value set for a peace of mind and start printing crisp texts, school presentations, colourful images or quality documents. It is suitable for home and office use.
COMPATIBILITY
HP DeskJet 5900 Series
HP DeskJet 5940
HP DeskJet 5950
HP Deskjet 6940
HP Deskjet 6943
HP Deskjet 6980
HP Deskjet 6980dt
HP Deskjet 6983
HP Deskjet 6985
HP Deskjet 6988
HP Deskjet 6988DT
HP DeskJet D4145
HP DeskJet D4155
HP DeskJet D4160
HP DeskJet D4163
HP DeskJet D4168
HP OfficeJet 100 Mobile
HP OfficeJet 150 Mobile
HP OfficeJet 150 Mobile
HP Officejet 6313
HP Officejet 6315
HP OfficeJet H470
HP OfficeJet K7100
HP OfficeJet K7103
HP OfficeJet K7108
HP PhotoSmart 2500 series
HP PhotoSmart 2573
HP PhotoSmart 2575
HP PhotoSmart 2578
HP PhotoSmart 8700
HP PhotoSmart 8753
HP PhotoSmart D5000
HP PhotoSmart D5060
HP PhotoSmart D5063
HP PhotoSmart D5065
HP PhotoSmart D5069
HP PhotoSmart D5100
HP PhotoSmart D5145
HP PhotoSmart D5155
HP PhotoSmart D5156
HP PhotoSmart D5163
HP PhotoSmart D5168
---
We Also Recommend
---