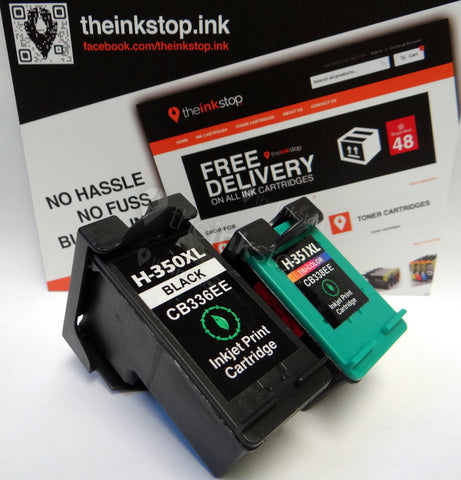 1 FULL SET Remanufactured HP 350XL BLACK & HP 351XL TRI-COLOUR HIGH CAPACITY ink cartridges
Quality Ink Cartridge
Low Online Price Guaranteed 
Great Value for Money
Product details:
• Product Type: Remanufactured cartridge
• Ink Colour(s): Tri-colour
• Ink Volume: 30ml+18ml
• Pack Quantity: 2
• In stock: Yes
DESCRIPTION
Remanufactured HP 350XL BLACK & HP 351XL TRI-COLOUR HIGH CAPACITY ink cartridge is a FULL SET for your printer. It's probably the best option for you if you need a high quality printing at reasonable price. Buy this value SET for a peace of mind and start printing crisp texts, school presentations, colourful images or quality documents.The cartridges contain the maximum amount of ink (the HP350XL&HP351XL have 12ml&6ml of ink more than our ordinary HP350&HP351 cartridges ).  It's suitable for home and office use.
COMPATIBILITY
HP Deskjet D4200
HP DeskJet D4260
HP DeskJet D4263
HP DeskJet D4268
HP DeskJet D4360
HP DeskJet D4363
HP DeskJet D4368
HP Officejet J5700
HP Officejet J5725
HP OfficeJet J5730
HP Officejet J5735
HP Officejet J5738
HP OfficeJet J5740
HP OfficeJet J5750
HP OfficeJet J5780
HP Officejet J5783
HP OfficeJet J5785
HP OfficeJet J5788
HP Officejet J5790
HP Officejet J6400
HP Officejet J6405
HP OfficeJet J6410
HP OfficeJet J6413
HP OfficeJet J6415
HP OfficeJet J6424
HP OfficeJet J6450
HP OfficeJet J6480
HP OfficeJet J6488
HP Photosmart C4200
HP Photosmart C4205
HP Photosmart C4210
HP Photosmart C4225
HP Photosmart C4235
HP Photosmart C4240
HP Photosmart C4250
HP Photosmart C4270
HP Photosmart C4272
HP Photosmart C4273
HP Photosmart C4275
HP Photosmart C4280
HP Photosmart C4283
HP Photosmart C4285
HP Photosmart C4288
HP Photosmart C4293
HP Photosmart C4294
HP Photosmart C4324
HP Photosmart C4340
HP Photosmart C4342
HP Photosmart C4343
HP Photosmart C4344
HP Photosmart C4345
HP Photosmart C4348
HP Photosmart C4380
HP Photosmart C4380 wifi
HP Photosmart C4383
HP Photosmart C4384
HP Photosmart C4385
HP Photosmart C4388
HP PhotoSmart C4390
HP Photosmart C4400
HP Photosmart C4410
HP Photosmart C4424
HP Photosmart C4435
HP Photosmart C4440
HP Photosmart C4450
HP Photosmart C4470
HP Photosmart C4472
HP Photosmart C4473
HP Photosmart C4475
HP Photosmart C4480
HP Photosmart C4483
HP Photosmart C4485
HP Photosmart C4486
HP Photosmart C4488
HP Photosmart C4493
HP Photosmart C4494
HP Photosmart C4500
HP Photosmart C4524
HP Photosmart C4550
HP Photosmart C4570
HP Photosmart C4572
HP Photosmart C4573
HP Photosmart C4575
HP PhotoSmart C4580
HP PhotoSmart C4583
HP PhotoSmart C4585
HP PhotoSmart C4588
HP PhotoSmart C4593
HP PhotoSmart C4599
HP Photosmart C5200 Series
HP PhotoSmart C5240
HP PhotoSmart C5250
HP PhotoSmart C5270
HP PhotoSmart C5273
HP PhotoSmart C5275
HP Photosmart C5280
HP PhotoSmart C5283
HP PhotoSmart C5288
HP PhotoSmart C5290
HP PhotoSmart C5293
HP Photosmart C5580
HP PhotoSmart D5300
HP PhotoSmart D5345
HP PhotoSmart D5355
HP PhotoSmart D5360
HP PhotoSmart D5363
HP PhotoSmart D5368
---
We Also Recommend
---