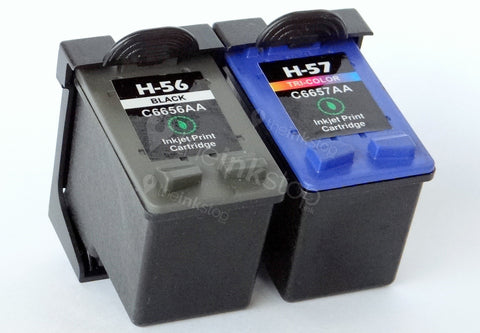 Remanufactured HP 56 BLACK & HP 57 TRI-COLOUR HIGH CAPACITY ink cartridges
Quality Ink Cartridge
Low Online Price Guaranteed 
Great Value for Money
Product details:
• Product Type: Remanufactured cartridge
• Ink Colour(s): Tri-colour
• Ink Volume:23ml+18ml
• Pack Quantity: 2
• In stock: Yes
DESCRIPTION
Remanufactured HP 56 BLACK & HP 57 TRI-COLOUR HIGH CAPACITY ink cartridge is a full set for your printer. It's probably the best option for you if you need a high quality printing at reasonable price. The cartridges contain the maximum amount of ink and give you comfort to print crisp text, documents or colourful images. It's suitable for home and office use.
COMPATIBILITY
HP DeskJet 450cbi
HP DeskJet 450ci
HP DeskJet 450wbt
HP DeskJet 5100 Series
HP DeskJet 5145
HP DeskJet 5150
HP DeskJet 5151
HP DeskJet 5160
HP DeskJet 5168
HP DeskJet 5500
HP DeskJet 5510
HP DeskJet 5550
HP DeskJet 5550V
HP DeskJet 5550W
HP DeskJet 5551
HP DeskJet 5552
HP DeskJet 5600 Series
HP DeskJet 5650
HP DeskJet 5650W
HP DeskJet 5652
HP DeskJet 5655
HP DeskJet 5850
HP DeskJet 5850W
HP DeskJet 6110
HP DeskJet 7345
HP DeskJet 9600
HP DeskJet 9650
HP DeskJet 9670
HP DeskJet 9680
HP Digital Copier 410
HP OfficeJet 1200
HP OfficeJet 2110
HP OfficeJet 4100 Series
HP Officejet 4105
HP OfficeJet 4110
HP OfficeJet 4110V
HP OfficeJet 4110XI
HP Officejet 4115
HP OfficeJet 4200 Series
HP Officejet 4211
HP OfficeJet 4212
HP OfficeJet 4215
HP OfficeJet 4215V
HP OfficeJet 4215XI
HP OfficeJet 4219
HP Officejet 4251
HP OfficeJet 4252
HP OfficeJet 4255
HP Officejet 4259
HP OfficeJet 5160
HP OfficeJet 5500 Series
HP OfficeJet 5505
HP Officejet 5508
HP OfficeJet 5510
HP OfficeJet 5515
HP OfficeJet 5600 Series
HP Officejet 5605
HP OfficeJet 5605Z
HP OfficeJet 5610
HP OfficeJet 5615
HP OfficeJet 6100
HP Officejet 6105
HP OfficeJet 6110
HP OfficeJet 6110XI
HP OfficeJet 6127
HP Officejet 6150
HP OfficeJet 6612
HP Officejet J5508
HP PhotoSmart 2410
HP PhotoSmart 7150
HP PhotoSmart 7150V
HP Photosmart 7155
HP Photosmart 7155w
HP PhotoSmart 7200
HP PhotoSmart 7260
HP PhotoSmart 7260V
HP PhotoSmart 7260W
HP Photosmart 7268
HP PhotoSmart 7345
HP PhotoSmart 7350
HP PhotoSmart 7350V
HP Photosmart 7400
HP PhotoSmart 7450
HP PhotoSmart 7459
HP Photosmart 7530
HP PhotoSmart 7550
HP PhotoSmart 7550V
HP PhotoSmart 7550W
HP Photosmart 7600
HP Photosmart 7600w
HP Photosmart 7655
HP PhotoSmart 7660
HP PhotoSmart 7660V
HP PhotoSmart 7660W
HP PhotoSmart 7700 Series
HP PhotoSmart 7755
HP PhotoSmart 7760
HP PhotoSmart 7760V
HP PhotoSmart 7760W
HP PhotoSmart 7762
HP PhotoSmart 7960
HP PhotoSmart 7960V
HP PhotoSmart 7960W
HP PSC 1100
HP PSC 1110
HP PSC 1200
HP PSC 1205
HP PSC 1209
HP PSC 1210
HP PSC 1210A2L
HP PSC 1210V
HP PSC 1210XI
HP PSC 1213
HP PSC 1215
HP PSC 1217
HP PSC 1219
HP PSC 1300
HP PSC 1310
HP PSC 1311
HP PSC 1315
HP PSC 1315V
HP PSC 1315XI
HP PSC 1317
HP PSC 1340
HP PSC 1350
HP PSC 1350V
HP PSC 1350XI
HP PSC 1355
HP PSC 2100
HP PSC 2105
HP PSC 2108
HP PSC 2110
HP PSC 2110V
HP PSC 2110XI
HP PSC 2115
HP PSC 2170
HP PSC 2171
HP PSC 2175
HP PSC 2175V
HP PSC 2175XI
HP PSC 2200 Series
HP PSC 2210
HP PSC 2210V
HP PSC 2210XI
HP PSC 2405
HP PSC 2410
HP PSC 2410V
HP PSC 2410XI
HP PSC 2420
HP PSC 2500 Series
HP PSC 2510
HP PSC 2510XI
---
We Also Recommend
---