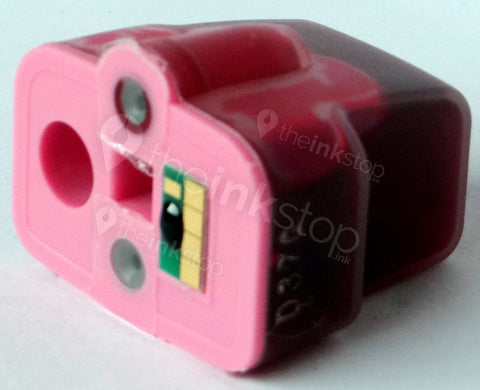 Compatible HP 363XL LIGHT MAGENTA HIGH CAPACITY Ink Cartridge
High Quality Ink Cartridge
Low Online Price Guaranteed 
Great Value for Money
Product details:
• Product Type: Compatible cartridge
• Ink Colour(s): Light Magenta
• Ink Volume: 18ml
• Pack Quantity: 1
• In stock: Yes
DESCRIPTION
This high quality compatible HP 363XL LIGHT MAGENTA cartridge prints documents, texts and images with a fine, clear finish. The cartridge contains the maximum amount of ink and is very reliable and economical for ink cost. It is suitable for home and office use.
COMPATIBILITY
HP photosmart 3110
HP PhotoSmart 3210
HP PhotoSmart 3300
HP PhotoSmart 3310
HP Photosmart 8200
HP Photosmart 8230
HP Photosmart 8238
HP PhotoSmart 8250
HP Photosmart 8253
HP Photosmart C5100
HP Photosmart C5140
HP Photosmart C5150
HP Photosmart C5170
HP Photosmart C5175
HP PhotoSmart C5180
HP PhotoSmart C5183
HP PhotoSmart C5188
HP PhotoSmart C5190
HP Photosmart C6100
HP Photosmart C6150
HP Photosmart C6170
HP Photosmart C6175
HP PhotoSmart C6180
HP Photosmart C6183
HP Photosmart C6185
HP Photosmart C6188
HP Photosmart C6190
HP Photosmart C6200 Series
HP Photosmart C6240
HP Photosmart C6250
HP Photosmart C6270
HP Photosmart C6280
HP Photosmart C6283
HP PhotoSmart C6285
HP Photosmart C6288
HP PhotoSmart C7180
HP Photosmart C7183
HP Photosmart C7185
HP Photosmart C7200 Series
HP Photosmart C7250
HP Photosmart C7275
HP Photosmart C7280
HP Photosmart C7283
HP Photosmart C7288
HP Photosmart C8180
HP PhotoSmart C8183
HP PhotoSmart D6160
HP Photosmart D7155
HP PhotoSmart D7160
HP Photosmart D7163
HP Photosmart D7168
HP Photosmart D7200 Series
HP Photosmart D7260
HP Photosmart D7263
HP Photosmart D7345
HP Photosmart D7355
HP PhotoSmart D7360
HP Photosmart D7363
HP Photosmart D7368
HP Photosmart D7460
HP Photosmart D7463
HP Photosmart P3210
---
We Also Recommend
---