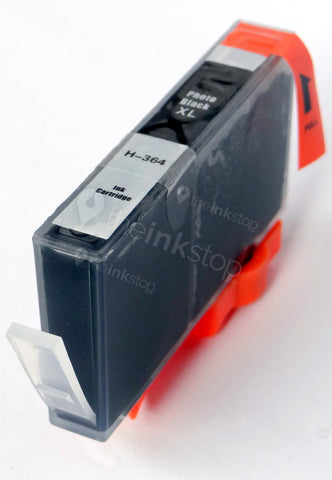 Compatible HP 364PB XL PHOTO BLACK HIGH CAPACITY Ink Cartridge (CHIPPED+INK LEVEL)
High Quality Ink Cartridge
Low Online Price Guaranteed 
Great Value for Money
Product details:
• Product Type: Compatible cartridge
• Ink Colour(s): Photo Black
• Ink Volume: 15ml
• Pack Quantity:1
• In stock: Yes
DESCRIPTION
This high quality & high capacity compatible HP 364PB XL PHOTO BLACK cartridge prints documents, texts and images with a fine, clear finish. Our chipped cartridge enables you to see how much ink is left in the cartridge. This cartridge contains the maximum amount of ink and is very reliable and economical for ink cost. It is suitable for home and office use.
COMPATIBILITY
HP DeskJet D5445
HP DeskJet D5460
HP PhotoSmart 7510
HP Photosmart 7520
HP Photosmart B8553
HP Photosmart C309A
HP Photosmart C5300 Series
HP PhotoSmart C5324
HP PhotoSmart C5360
HP PhotoSmart C5370
HP PhotoSmart C5373
HP PhotoSmart C5380
HP Photosmart C5383
HP Photosmart C5388
HP Photosmart C5390
HP Photosmart C5393
HP Photosmart C6300 Series
HP PhotoSmart C6324
HP PhotoSmart C6350
HP PhotoSmart C6380
HP PhotoSmart C6383
HP PhotoSmart D5445
HP PhotoSmart D5460
HP PhotoSmart D5463
HP PhotoSmart D5468
HP PhotoSmart D7560
HP PhotoSmart estation
HP Photosmart eStation C510
HP Photosmart eStation C510e
HP Photosmart Premium All-In-One
HP Photosmart Premium C309
HP PhotoSmart Premium C310
HP Photosmart Premium C410B
HP Photosmart Premium CC335B
HP Photosmart Premium Fax
HP PhotoSmart Pro B8550
HP PhotoSmart Q8447 wifi
---
We Also Recommend
---