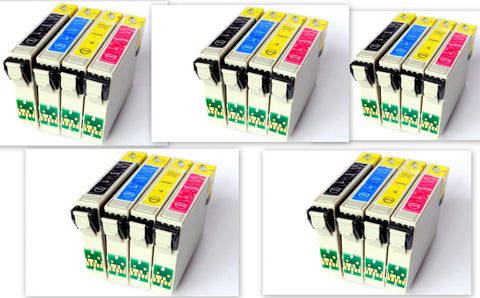 5 Full Sets Compatible Epson T0715 (Replaces Epson T0711-14 Cheetah Cartridges)
High Quality Ink Cartridge
Low Online Price Guaranteed 
Great Value for Money
Product details:
• Product Type: Compatible cartridge
• Ink Colour(s): Black, Cyan, Magenta, Yellow
• Ink Volume: 5*15ml+15*13.5ml
• Pack Quantity: 8
• In stock: Yes
DESCRIPTION
These compatible multipacks of EPSON T0715 contain all colours: Black, Cyan, Magenta, and Yellow. These 5 full sets of cartridges for your printer. Buy the sets to have a peace of mind and start printing crisp text, colourful images or quality documents. It's suitable for home and office use.
COMPATIBILITY
Epson Stylus CX4300
Epson Stylus D120
Epson Stylus D5050
Epson Stylus D78
Epson Stylus D92
Epson Stylus DX400
Epson Stylus DX4000
Epson Stylus DX4050
Epson Stylus DX4400
Epson Stylus DX4450
Epson Stylus DX5000
Epson Stylus DX5050
Epson Stylus DX6000
Epson Stylus DX6050
Epson Stylus DX7000
Epson Stylus DX7000F
Epson Stylus DX7400
Epson Stylus DX7450
Epson Stylus DX8400
Epson Stylus DX8450
Epson Stylus DX9400F
Epson Stylus Office B40W
Epson Stylus Office BX300F
Epson Stylus Office BX310FN
Epson Stylus Office BX3450
Epson Stylus Office BX600FW
Epson Stylus Office BX610FW
Epson Stylus S20
Epson Stylus S21
Epson Stylus SX100
Epson Stylus SX105
Epson Stylus SX110
Epson Stylus SX115
Epson Stylus SX200
Epson Stylus SX205
Epson Stylus SX210
Epson Stylus SX215
Epson Stylus SX218
Epson Stylus SX400
Epson Stylus SX405
Epson Stylus SX405 wifi
Epson Stylus SX410
Epson Stylus SX415
Epson Stylus SX510w
Epson Stylus SX515w
Epson Stylus SX600fw
Epson Stylus SX610w
---
We Also Recommend
---