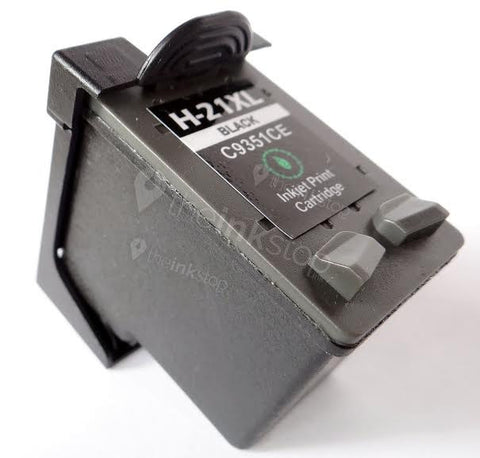 Remanufactured HP 21XL BLACK HIGH CAPACITY ink cartridge
Quality Ink Cartridge
Low Online Price Guaranteed 
Great Value for Money
Product details:
• Product Type: Remanufactured cartridge
• Ink Colour(s): Black
• Ink Volume: 22ml
• Pack Quantity: 1 
• In stock: Yes
DESCRIPTION
Remanufactured HP21XL BLACK HIGH CAPACITY ink cartridge is a high quality replacement for the genuine HP21 ink cartridge. It's probably the best option for you if you need a high quality printing at reasonable price. The cartridge gives you comfort to print crisp text, documents or images.  It's suitable for home and office use.
COMPATIBILITY
HP DeskJet 2128
HP DeskJet 2149
HP DeskJet 2180
HP DeskJet 3747
HP DeskJet 3900
HP DeskJet 3910
HP DeskJet 3915
HP DeskJet 3918
HP DeskJet 3920
HP DeskJet 3920v
HP DeskJet 3930
HP DeskJet 3930v
HP DeskJet 3938
HP DeskJet 3940
HP DeskJet 3940v
HP DeskJet 3950
HP DeskJet D1311
HP DeskJet D1320
HP DeskJet D1330
HP DeskJet D1338
HP DeskJet D1341
HP DeskJet D1360
HP DeskJet D1368
HP DeskJet D1400
HP Deskjet D1415
HP DeskJet D1420
HP DeskJet D1430
HP DeskJet D1445
HP DeskJet D1450
HP DeskJet D1455
HP DeskJet D1460
HP DeskJet D1468
HP DeskJet D1558
HP DeskJet D1560
HP DeskJet D1568
HP Deskjet D2230
HP DeskJet D2300
HP DeskJet D2320
HP DeskJet D2330
HP DeskJet D2338
HP DeskJet D2345
HP DeskJet D2360
HP DeskJet D2368
HP DeskJet D2400
HP DeskJet D2430
HP DeskJet D2445
HP DeskJet D2451
HP DeskJet D2460
HP DeskJet D2468
HP Deskjet F2100
HP DeskJet F2110
HP DeskJet F2120
HP DeskJet F2128
HP DeskJet F2140
HP DeskJet F2149
HP DeskJet F2180
HP DeskJet F2185
HP DeskJet F2187
HP DeskJet F2188
HP DeskJet F2200
HP Deskjet F2210
HP Deskjet F2212
HP Deskjet F2214
HP Deskjet F2224
HP Deskjet F2235
HP Deskjet F2238
HP Deskjet F2240
HP Deskjet F2250
HP Deskjet F2275
HP Deskjet F2276
HP Deskjet F2278
HP DeskJet F2280
HP Deskjet F2288
HP Deskjet F2290
HP Deskjet F2291
HP DeskJet F300
HP DeskJet F310
HP DeskJet F325
HP DeskJet F335
HP DeskJet F340
HP DeskJet F350
HP DeskJet F370
HP DeskJet F375
HP DeskJet F378
HP DeskJet F380
HP DeskJet F385
HP DeskJet F388
HP DeskJet F390
HP DeskJet F394
HP DeskJet F4100 Series
HP DeskJet F4135
HP DeskJet F4140
HP DeskJet F4150
HP DeskJet F4172
HP DeskJet F4175
HP DeskJet F4180
HP DeskJet F4185
HP DeskJet F4188
HP DeskJet F4190
HP DeskJet F4194
HP Fax 1250
HP Fax 1250Xi
HP OfficeJet 1410
HP OfficeJet 1410Xi
HP Officejet 4300
HP Officejet 4310
HP OfficeJet 4311
HP OfficeJet 4312
HP OfficeJet 4314
HP OfficeJet 4315
HP Officejet 4315v
HP Officejet 4315xi
HP OfficeJet 4317
HP OfficeJet 4319
HP Officejet 4350
HP OfficeJet 4352
HP OfficeJet 4353
HP OfficeJet 4355
HP OfficeJet 4359
HP Officejet 4360
HP OfficeJet 4625
HP OfficeJet 4638
HP OfficeJet 4712
HP OfficeJet 4713
HP OfficeJet 5608
HP OfficeJet 5609
HP Officejet J3508
HP Officejet J3608
HP Officejet J3640
HP Officejet J3650
HP Officejet J3680
HP Officejet J5520
HP PSC 1400
HP PSC 1401
HP PSC 1402
HP PSC 1403
HP PSC 1406
HP PSC 1408
HP PSC 1410
HP PSC 1415
---
We Also Recommend
---