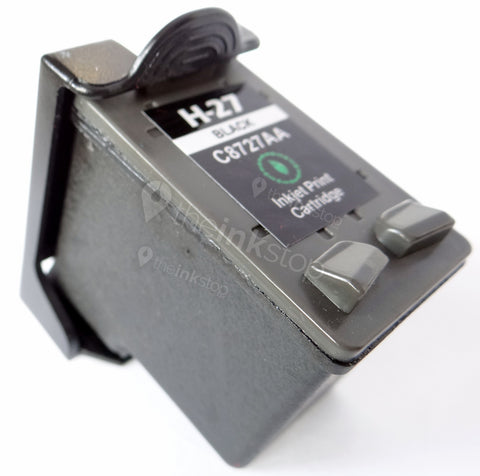 Remanufactured HP 27 BLACK HIGH CAPACITY ink cartridge
Quality Ink Cartridge
Low Online Price Guaranteed 
Great Value for Money
Product details:
• Product Type: Remanufactured cartridge
• Ink Colour(s): Black
• Ink Volume: 20ml
• Pack Quantity: 1 
• In stock: Yes
DESCRIPTION
Remanufactured HP 27 BLACK HIGH CAPACITY ink cartridge is a high quality replacement for your printer. It's probably the best option for you if you need a high quality printing at reasonable price. The cartridge gives you comfort to print crisp text, documents or images.  It's suitable for home and office use.
COMPATIBILITY
HP DeskJet 3300
HP DeskJet 3320
HP DeskJet 3320V
HP DeskJet 3322
HP DeskJet 3323
HP DeskJet 3325
HP DeskJet 3420
HP DeskJet 3420V
HP DeskJet 3425
HP DeskJet 3450
HP DeskJet 3500
HP DeskJet 3520
HP DeskJet 3520V
HP DeskJet 3520W
HP DeskJet 3535
HP DeskJet 3538
HP DeskJet 3550
HP DeskJet 3550V
HP DeskJet 3550W
HP DeskJet 3620
HP DeskJet 3620V
HP DeskJet 3645
HP DeskJet 3647
HP DeskJet 3650
HP DeskJet 3650V
HP DeskJet 3653
HP DeskJet 3658
HP DeskJet 3740
HP DeskJet 3743
HP DeskJet 3744
HP DeskJet 3745
HP DeskJet 3745V
HP DeskJet 3748
HP DeskJet 3840
HP DeskJet 3843
HP DeskJet 3845
HP DeskJet 3845xi
HP DeskJet 3847
HP DeskJet 3848
HP Officejet 4211
HP OfficeJet 4252
HP Officejet J5508
---
We Also Recommend
---